Meet our team of renowned industry veterans
Passionately committed to bettering the industry that they've worked in for decades, the EGIA Foundation Board of Trustees has varied and extensive experience in the home services and energy industries. Our Board, with professional backgrounds ranging from education and marketing to HVAC manufacturing, industry publishing and more, is uniquely qualified and truly invested in improving the industry from the ground up.
---
Bruce Matulich
Chairman
Bruce Matulich has been the Chief Executive Officer at the Electric & Gas Industries Association (EGIA) since joining the company in 2003. As CEO, he manages day-to-day operations, represents the Association in key state and national industry forums and regulatory proceedings and provides oversight of EGIA strategic growth initiatives.

Bruce brings over 35 years of experience in leadership positions within the utility, energy services and home services industries and has been active in developing, managing and implementing some of the most extensive energy efficiency and demand response programs in the country. He has also been instrumental in transforming EGIA into a leading contractor education and training organization by founding EGIA Contractor University, guides EGIA's industry leading financing solutions that have facilitated over $8 billion in home services and business energy efficiency upgrades and serves as Chairman of the EGIA Foundation, a 501(c)(3) nonprofit public charitable organization committed to educating, researching and developing the next generation of qualified workers, helping drive more young adults, women and minorities into the trades, as a first career choice.

Bruce holds degrees in Business Administration/Marketing and Industrial Technology from San Jose State University.
---
Larry Zarker
Vice Chairman
Larry Zarker is the Chief Executive Officer of Building Performance Institute (BPI), an industry leader in developing standards for energy efficient retrofit work and certifying contractors and companies to help raise the bar in home performance contracting. Larry has more than 30 years of experience in the residential buildings sector, including 20 years with the National Association of Home Builders (NAHB) Research Center, serving as vice president of marketing for much of that time.
---
Joe Calabrese
Secretary & Treasurer
Joe Calabrese is the Chief Financial Officer of EGIA, responsible for managing all financing and accounting practices at the organization. Joe oversees all final budgets and reporting, while directing the overall financial strategy and long-term organizational success and sustainability of EGIA.
---
Nick Benton
Trustee
Nick Benton, HARDI Vice President of Operations, joined HARDI in 2014, after working in a corporate training environment. Nick engages with HARDI members daily to ensure that they have all of the tools required to get the most out of their people, from on-boarding programs to training and development.
---
Drew Cameron
Trustee
Drew Cameron is
America's Most Sought-After Sales & Marketing Strategy and Success Advisor to Home Services Contractors
and president of both FLOW Odyssey (formerly HVAC Sellutions) and Energy Design Systems, LLC: the premier industry alliance providing leading-edge technology along with complementary marketing and sales consultative support, recruiting, training, and coaching for performance and profit enhancement of Home Services Contactors. Drew is a renowned author, speaker, educator, coach, consultant, software developer, philanthropist, and an International Consultant Award Winner. Drew is also a president of the Cameron Family Memorial Foundation; a Board member, a Foundation Board Trustee, a Contractor University Founder & Faculty member, Resident Expert of Contractor Connect for Electric & Gas Industries Association (EGIA); a member of Black Belt Contracting (BBC).
---
Mike Hellmann
Trustee
Mike Hellmann is a Director within the Industry and Infrastructure Group at Informa, a leading multi-national B2B media services company. He has responsibility for seven Building Infrastructure-focused media properties that connect the many members of the building equipment and services value chain including: manufacturers, engineers, wholesalers, distributors, and end-users across the spectrum of residential, commercial, institutional, and industrial facilities markets. Prior to joining Informa, Mike spent more than two decades between Siemens and Schneider Electric in numerous product, marketing, and sales leadership roles, all of which focused on the new, retrofit, and MRO building infrastructure construction marketplaces.
---
Karie Johnson
Trustee
Karie Johnson joined The Habegger Corporation, an industry leading HVAC distributor, in 2016 as Corporate Manager, Marketing and Development. She has been in building products for over 25 years striving to better not only the organizations she's been a part of but also helping drive each industry forward. Karie has held key management roles at several Fortune 500 companies.
---
Debra Rowe
Trustee
Dr. Debra Rowe is a well-recognized national and international leader in education for sustainability. She is President of the U.S. Partnership for Education for Sustainable Development (www.uspartnership.org). The U.S. Partnership convenes leaders within business, education, government, faith and youth sectors of the U.S. and catalyzes national sustainability initiatives. Dr. Rowe is also co-founder of the Higher Education Associations Sustainability Consortium (www.aashe.org/heasc), founder/facilitator of the Disciplinary Associations' Network for Sustainability (www.aashe.org/dans), and Senior Advisor to the Association for the Advancement of Sustainability in Higher Education (www.aashe.org). She helps higher education and K-12 faculty and staff, national associations and other private and public institutions integrate sustainability into mission, curricula and training, fundraising, research, policy, culture, purchasing and investments, facilities and operations, and community partnerships.

Dr. Rowe has been professor of Energy Management and Renewable Energies for over 35 years at Oakland Community College near Detroit, Michigan. She also teaches Campus Sustainability and taught Corporate Sustainability for the University of Vermont. Dr. Rowe chaired the Technical Advisory Group and the Community of Action to Grow Green Jobs through Policy and Civic Engagement for the American Association of Community Colleges (AACC). In these roles, she convenes energy and sustainability experts, reviews and selects resources, and co-authors overarching documents for AACC's Sustainability Education and Economic Development Resource Center (www.theSeedCenter.org). This Resource Center is designed to share curricula, partnership and civic engagement models, skills and competencies, quality criteria, promising practices and funding resources. Dr. Rowe has helped hundreds of colleges start their own sustainable energy programs and has also been staff consultant for a U.S. Department of Education funded project entitled "Sustainability Improves Student Learning" (http://serc.carleton.edu/sisl), working with thirteen STEM academic societies.

Debra Rowe is often a keynote speaker at national and international conferences. She is the author or editor of numerous publications, including the encyclopedia, Achieving Sustainability: Vision, Principles and Practices.
---
Eugene Silberstein
Trustee
Over the past forty-two years, Eugene has been involved in all aspects of the HVACR industry from field technician and system designer to company owner, teacher, administrator, consultant and author. Eugene is presently serving as the Director of Technical Education and Standards at the ESCO Institute. Eugene has over twenty-five years of teaching experience and has taught at several private, secondary and postsecondary institutions. He can be seen at many national HVACR events, where he, as a popular guest presenter, speaks on many different topics important to our industry.

Eugene earned his dual Bachelors Degree from The City College of New York, where he studied electrical engineering, economics, and operations management. He earned his Masters of Science degree from Stony Brook University, where he specialized in Energy and Environmental Systems, studying renewable and sustainable energy sources including wind, solar, geothermal, biomass and hydropower. He earned his Certified Master HVACR Educator (CMHE) credential from HVAC Excellence. Eugene also carries the BEAP credential issued by ASHRAE, which classifies him as a Building Energy Assessment Professional.

As an active member of various industry organizations, including ASHRAE and IEEE, Eugene served as the subject matter expert and wrote the production scripts for dozens of educational videos directly relating to our industry in addition to co-authoring the number one HVACR textbook in the industry, "Refrigeration and Air Conditioning Technology", presently in its 9th Edition" published by Cengage Learning. This book is used in over 1,100 schools both in this country and abroad to help individuals learn, and master, the skills required to service, install, design, service and troubleshoot HVACR equipment.

Other book credits include Refrigeration and Air Conditioning Technology, 6th, 7th, and 8thEdition, Residential Construction Academy: HVAC, 1st and 2nd Edition, Pressure Enthalpy Without Tears (2006, 2014), Heat Pumps, 1st and 2nd Editions and Psychrometrics Without Tears (2014). Eugene has also written a number of articles for industry newspapers and magazines.

Eugene was selected as one of the top three HVAC/R instructors in the country for the 2005/2006, 2006/2007 and 2007/2008 academic school years by the Air Conditioning and Refrigeration Institute (ARI), now AHRI, and the Air Conditioning, Heating and Refrigeration (ACHR) News.
---
Christine Rasche
Trustee
Christine Rasche is Associate Director, Controls at Carrier where she manages the team responsible for the strategy, development and management of the thermostat, wall control and equipment controls for Residential HVAC. In addition to her responsibilities leading this team, she champions the Carrier Residential HVAC business unit's relationship with Habitat for Humanity at the national and local level. Christine is also a member of the board and on the strategic planning committee for Greater Indy Habitat for Humanity.

Christine holds an MBA from Butler University and has a Bachelor of Science degree in marketing from Indiana University. Christine began her career working in the advertising and marketing industry in Chicago before moving home to Indianapolis and joining Delta Faucet Company's retail product development team. Christine then spent several years at home with her two children, ages 14 and 12 before joining Carrier at the start of 2017.
---
Danielle Putnam
Trustee
Danielle Putnam, recognized by The News as The Top 40 Under 40, and Service World Expo as the 2021 Woman of the Year, is President of The New Flat Rate, Advisory Board Member and Past President of Women in HVACR, and is the Executive Director of her non-profit, Family Frameworks.

Danielle has a personal connection with the home service industry. Her first job was passing out flyers door-to-door for her father's electrical business. She was 7 years old. In high school, she moved up to being an office dispatcher and parts runner. After college, she became the marketing director for an HVAC company in Oregon.

Danielle knows home service, but she is also no stranger to big business. Before co-founding TNFR, she was the director of business development for a large digital services firm, pitching to C-level executives for big name companies. As part of her job, she also stood before multi-million-dollar investors, seeking capital for the publicly-owned company that she worked for.

Danielle is dedicated to helping grow the industry she grew up in and loves. As a public speaker, she promotes careers in the home service industry.
---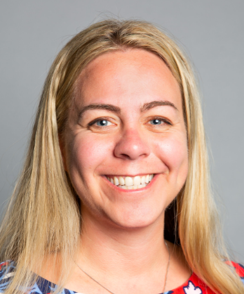 Crystal Hyman
Trustee
Crystal Hyman is the Dealer/Contractor Experience Leader at Trane Technologies where she leads a team responsible for the Trane and American Standard elite dealer programs, dealer demand generation, strategic partnerships and innovation, through programs such as the newly created Trade Warriors program, which recruits, trains and finds jobs for veterans. Crystal's passion is creating solutions for HVAC dealers to develop and grow their business. She has been with Trane Technologies since 2003 in multiple functions within the organization. She holds a Bachelor of Science degree from Northern Iowa in Marketing, minoring in International Business and Spanish. Outside of Trane Technologies, Crystal is Troop Leader for Girl Scout Troop 14281.